About Urihk – Innovative Pharmaceutical Company in India
URIHK is a vertically integrated pharmaceutical company that launches, registers and distributes innovative critical care and neuro products in India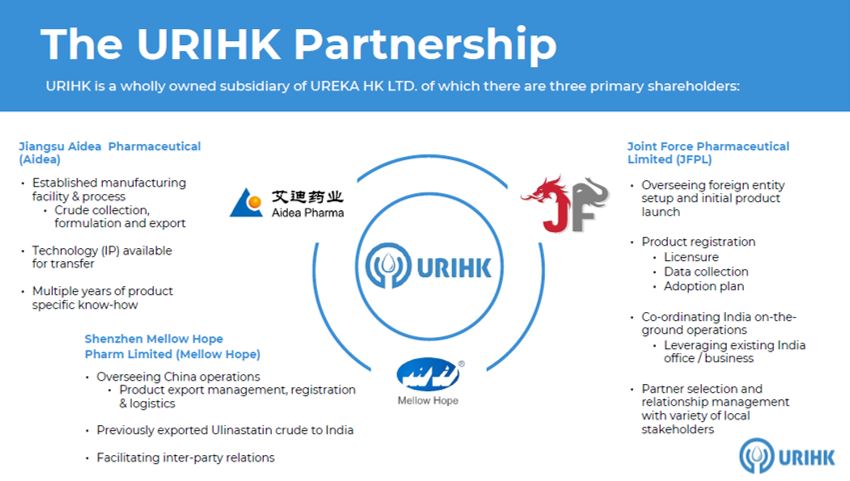 Urihk Pharmaceuticals ("URIHK" or "Urihk"), a subsidiary of UREKA Hong Kong Ltd., has built a strong foundation in India by launching and distributing innovative drugs in the critical care and neuro segments. With a network spanning more than 55 countries, we are known for proliferating reliable and diverse therapies that make a real difference in people's lives.
Urihk began as a partnership between three highly experienced companies: Jiangsu Aidea Pharmaceutical ("Aidea"), Joint Force Pharmaceutical Limited ("JFPL"), and Shenzhen Mellow Hope Pharm Limited ("Mellow Hope"). The Urihk Partnership continues to grow and evolve, leveraging learnings and expertise to bring the best the world has on offer to India.
Urihk's mission is to help save lives through the development and distribution of groundbreaking  products. We aim to provide innovative products at optimal pricing, to suit a wide range of customers in the critical care and neuro segments. Our top priority is always the requirements of medical professionals and their patients; at Urihk, we strive to emphasize the 'U' before the 'I'
.
Urihk is entirely invested in becoming a leading name in India and beyond. We provide a unique product range for our extensive customers, and are constantly looking for better ways to connect with new partners globally. Count on us to fulfill the unmet needs of Indian patients.
Count on us to help you build a better India.
Our Vision
---
To proliferate proven, high-quality, innovative pharmaceutical products at affordable prices, with a particular focus on the critical care segment.
Our Mission
---
To serve patients and save lives in the ICU by unlocking the vast medicinal properties that nature has to offer.
Create value
for patients, medical practitioners & stakeholders alike
Foster competition
to enable affordable access to pharmaceuticals
Ensure quality
and maintain integrity to increase positive health outcomes
Collaborate across borders
to leverage learnings and work with cutting edge technology
Encourage innovation
that is ground-breaking and environmentally sustainable
Nurture partnerships
that are long-lasting, based on trust, communication and shared values
Unrivaled manufacturing, procurement, and sourcing infrastructure
Cross border partnerships, leveraging global and local expertise
Fully vertically integrated operation, from sourcing to distribution
Best-in-class research and technology team equipped to handle new products
We are always looking for talented people
JOIN OUR TEAM